If you want your next trip to be adventurous and thrilling, plan a perfect bikepacking route. Many people are hesitant to go bikepacking with a backpack because they don't know what it entails and whether they can enjoy their trip fully with a backpack.
Carrying a backpack on a bikepacking trip isn't ideal for everyone, but most people immensely enjoy the experience. That's because they have all their necessities with them on their trip. If you also want to try it out, here's everything you need to know beforehand.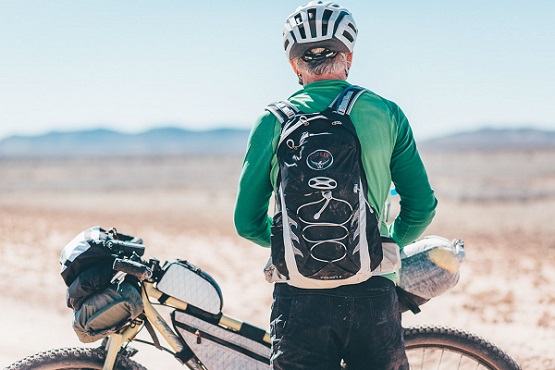 What Does It Entail?
Whether you're planning a one-day or multi-day biking trip, carrying a backpack with you means you have the liberty of stopping anywhere along your route and taking a break.
If you have all the necessities, there isn't a need to look for public resting stops or convenience stores. In situations where you may wander off-route or get lost, having a backpack means you feel safe and secure.
Preparing to Go Bikepacking with a Backpack
When you're preparing to pack your backpack for your trip, be careful not to overpack and choose a suitable backpack. Carrying a heavy load can put immense strain on your upper body and you may not be able to continue on your route.
The size and weight of your backpack will depend on the route length you plan to take. For a day trip, you can carry a lighter backpack, while for a multi-day trip, consider using a hiking bag. And don't forget to check if it's waterproof to keep the contents safe.
The Essentials to Carry
Whether your trip is for one day or more, there are some essentials you need to have in your backpack. Food and water are crucial for any bikepacking trip, and the longer your trip is, the more supplies you will need to carry.
If you are planning on camping outside, carry the equipment for that too. On a bikepacking with a backpack trip, you should carry a repair kit for your bike to deal with a breakdown. Carry a first-aid kit for yourself with essential medications.
Other essentials can include miscellaneous items like sunscreen, mosquito repellant, fire-starters, etc.
You can also carry appropriate clothes and accessories depending on the weather and the type of route you will take. It's a good idea to pack some sunglasses in summer and gloves for winter.
To make for easier organization, you can use separate storage bags for different categories of items. Make sure that your food is separated in a separate bag to prevent leakage.
Plan Your Next Trip with a Backpack
It's fun to plan your bikepacking route, especially when you don't have to think about the nearest rest stops and stores. With a backpack, you have the freedom to travel at your own pace along your route without being concerned about getting supplies.
When you're choosing the ideal backpacking route for you, consider your fitness level, stamina, and endurance before deciding. Carrying a backpack can put stress on your body, and you want to make sure that you're not overexerting yourself on your trip. So, choose your backpack wisely after checking its weight and durability.