In our busy schedule, we often do not find enough time to spend with our family. The truth is that nothing can be better than a few hours of relaxation with your close ones. People look forward to ways of spending good quality time – it's actually not always possible to set out for short trips or visit malls or restaurants, quite frequently. So, how to do you relax and connect with your family as you play table tennis?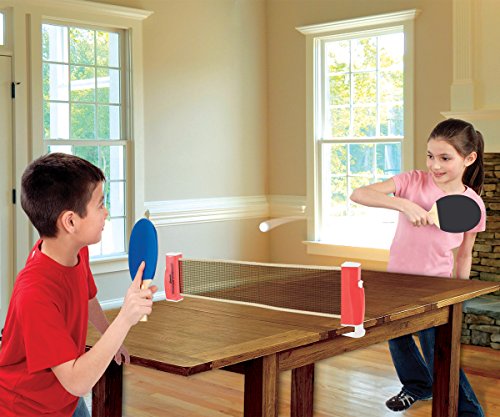 Connect With Your Family
No matter how busy you are and how hectic your schedule is, you need to stay connected with your family. It's not just about your immediate family – its all about staying in touch with your extended family as well. If you are looking forward to different ways of connecting with your family, you need to start thinking about the game of table tennis. This is one game which is going to help you stay focused, concentrated and connected with your family members. So, here are a few ways by which you can connect with your family, over a game of table tennis.
Plan for the weekends – instead of moving out, why not plan a game of table tennis? Call your cousins and enjoy the game.
Arrange for mini tournaments. This will make the game interesting and will be quite motivating.
Teach your kids to play the game. It's a great way to improve the functioning of the brain with table tennis. Kids who play the game from an early age are found to be socially active; they develop great concentration skills and are happier.
Play whenever you have an hour in hand. Table tennis is one game which doesn't require many accessories- all you need is one paddle, table and a ping pong ball. It is quite easy to play.
If you have a family gathering or a get-together, this game can be played easily. This is one entertaining game which will definitely make everyone feel better and happier.
There are many ways to enjoy the game. All you need to do is plan to play the game with your friends and you will love it simply.
Table Tennis is a relaxing game!
We often hear this that playing table tennis helps us to stay relaxed and happy. There are many reasons why ping pong is the recommended game for relaxing and connecting with your family members. Here are some of the reasons, why playing ping pong with your family can help you relax and feel better!
Keeps Stress Away – Ping pong is quite an entertaining game. It helps in keeping away anxiety and stress. If you play just an hour of table tennis, your mind will get diverted away from all your worries and stress. Your complete attention shall be on the different strokes and how you can play the game well. Thus, it is possible to keep stress away. When you do not feel stressed, you are definitely going to be relaxed and feel fresh.
Helps The Brain – The functioning of our brain is strengthened when a game of ping pong is played. As one plays the game, the player helps to develop concentration skills and feels energized. As the brain is powered with a game of table tennis, there is complete change in how we feel.
Keeps The Body Fit – As you play the game, you are able to build your general fitness. You are able to lose extra calories from the body. With loss in body fat, you feel much better and happier. Sometimes, weight loss can help in improving the moral.
Relaxation is something that is achieved when you enjoy doing something you really love to do. Table tennis is a true game of entertainment and when players start enjoying the game it is a complete way to relax.
If you haven't played ping pong ever, you might not know how relaxing and fun the game can be. It helps in boosting the moral of individuals, it helps in improving power of concentration and it can help you stay relaxed by just spending an hour playing the game.
Author Bio
Lisa is an individual who play sports with her passion. One of her passion projects is writing about ping pong and healthy. Click here www.gosportsreviews.com to read her articles.