Selecting the right hockey skates solely depends on how perfect they are for you. The best hockey skates are those which suit your foot size, skill level, playing style, and weight. These factors determine which ice hockey skates would make a perfect choice for you.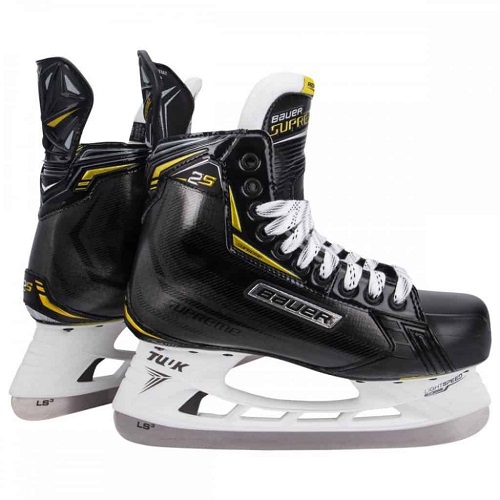 Fit Style
Your foot type and what kind of skater you are, determine the fit style of your hockey skates. There are specially designed skates for people with wider feet and some for giving you optimum stride power.
CCM and Bauer, two top hockey skate brands, have multiple skate options for each foot size and skating style. Going through each of them will help you find the right fit for you and your skating style.
Skates Size
Skate fit varies with each person. Knowing your foot size is not sufficient for finding the right fit for you. Different skates brands have different parameters of size for different types of skates. A CCM skate with size 7.5 may be a size 8 in Bauer skates. The standard rule for choosing the right fit for hockey skates is to go down by 1.5 sizes from your regular shoe size.
Comfortable fit boots are better for your feet. Just make sure the boots are not so tight that they hurt your feet. The skates should snug your feet like they are an extension of your feet. Poor skate fit can affect your stability and speed in the rink.
The Right Price
It's not always necessary to buy the latest models of skates. The secret of purchasing hockey skates is finding the best deals for you. A lot of online and offline stores run discount campaigns and clearance sales. Keep on the lookout for such discount sales and store campaigns.
Whenever they launch a new skates model, the older ones get discounted offers, by around 20-30%. The top-of-the-line skates cross the price point of $1000, whereas $400 skates usually come with all the latest features at a reasonable price.
Room to Grow
A growing room primarily applies to children and young adults. Buying skates for developing children can be a little tricky. It's difficult to buy the latest skate models only to find out they grow out of them within a year. It's best to purchase the skates one size bigger than their foot size, so there is plenty of room for their foot growth. Do not go for more than one size, or else the loose fit can cause blisters and calluses.
Safety
One of the biggest responsibilities of skates is to protect your feet from pucks that are rapidly moving. The best hockey skates should have protection in the toecap and the front part of the boots. The level of protection depends on your playing level and the speed of the shots being played in the game. The quality of material used for lining the toe cap on the inside of the skates is one of the most significant differences between low-end and high-end skates.
These were the factors that will help you to find the best hockey skates. Make sure you meet all parameters when you buy your hockey skates.