The letterman jacket is an unquestioned classic. First worn by Harvard athletes back in 1865, it boasts one of the oldest and most sterling pedigrees of any piece of American fashion. And in all those years, there have been myriad ways how to style a letterman jacket.
You could fill an entire book with letterman jacket styling tips. But in the interest of brevity, we wanted to reduce it down to some of the strongest looks you can build around the iconic garment.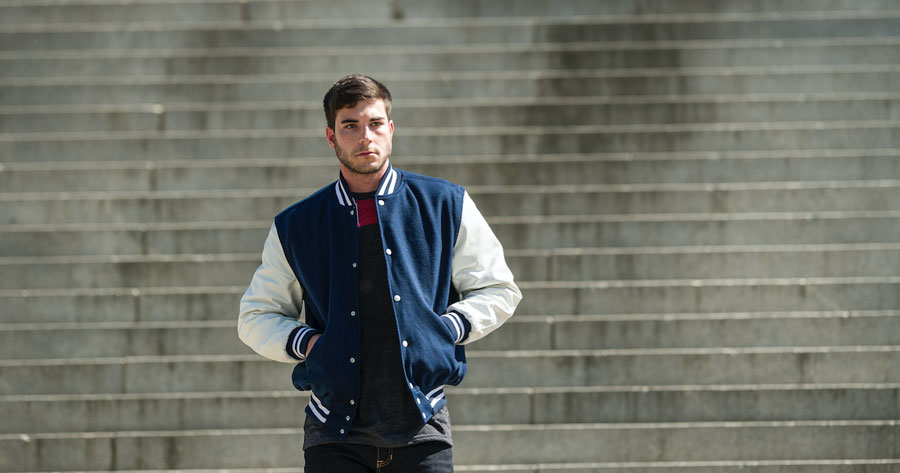 So to that end, here are some of the best letterman jacket outfit ideas for you to try out.
Go for the Classic, Sporty Look
While it is important to push the fashion envelope from time to time, that doesn't mean we need to constantly be reinventing the wheel. The letterman jacket is, after all, a piece of athletic wear first and foremost. So lean into that by using it to create a fun, sporty look.
As a bonus, it's a very simple look to assemble that almost anyone can pull off. All you have to do is pair your jacket with some straight-leg trousers with sneakers, and boom, you're already there.
If that's a little too tomboyish for your taste, you can mix and match the blouse to strike the right balance of sportiness and femininity.
Keep It Tasteful
As established, the letterman jacket is athletic wear. And athletic wear doesn't always send the best message about the person wearing it.
Sure, the sporty look can work if you keep it nice and tidy. But that same casual, laid-back vibe can work against you just as well. Yoga pants, baggy tees, and messy buns are fine around the house, but less so if you need to be seen in public.
So for an occasion where you don't want to allow the smallest risk of looking sloppy, you want to balance the jacket with some more edgy elegant accouterments.
Think of things that would compliment the sporty look rather than clash with it. Leather skirts, ankle boots, or even a bandana around the neck in place of statement jewelry will let you keep the casualness of the jacket while still looking put together. It's one of the most fun ways of styling a letterman jacket.
Make It Oversized
The one problem with a classic piece like this is that so many of the possible ways how to wear a letterman jacket have already been done before. So for the person who likes to break the mold, it can be a challenge to innovate.
So what can you do? Reiterate on the letterman jacket itself.
The oversized look is very in right now. And pairing an oversized letterman jacket with a matching sweater dress or the like allows you to create a fresh look. For an example of a purpose-made oversized letterman jacket, click here.
There Are Countless Ways for How to Style a Letterman Jacket
In its long history, this deceptively flexible garment has produced countless classic looks. And these examples are only a few examples of how to style a letterman jacket.
Fashion is both an art and a science, and finding the right look for you can take time and experimentation. For all the inspiration you need as you find your latest look, be sure to keep up with our latest fashion news and guides.