Email marketing has never been easier before email drip campaigns tools appeared and the benefits they have brought to us. I remember the days when I used to purchase email lists of potential customers from different companies and sending bulk emails to them. Buying those lists was never a bad idea until I started discovering many fake dummy emails in the lists and realizing that the bulk emails do not work at all.
Now, sending drip emails has become a standard. So let's see what Snov.io Email Drip Campaigns tool is and why use it and it is worth trying at all.
Why Snov.io is more successful than similar tools
There are many factors that make Snov.io better and more beneficial. Compared to other platforms, Snov.io offers other tools like Email Finder. Gone are the days when I used to buy email lists. Snov.io has solved this problem by providing its Chrome extension to search for email addresses on websites.
You read it right, a Chrome extension to get your target audience's email addresses. This extension is super easy to use. You can extract an unlimited number of email addresses from any webpage and then store those emails to your email list. And this email list can later be used to send drip emails to your potential audience.
Drag – Drop – Done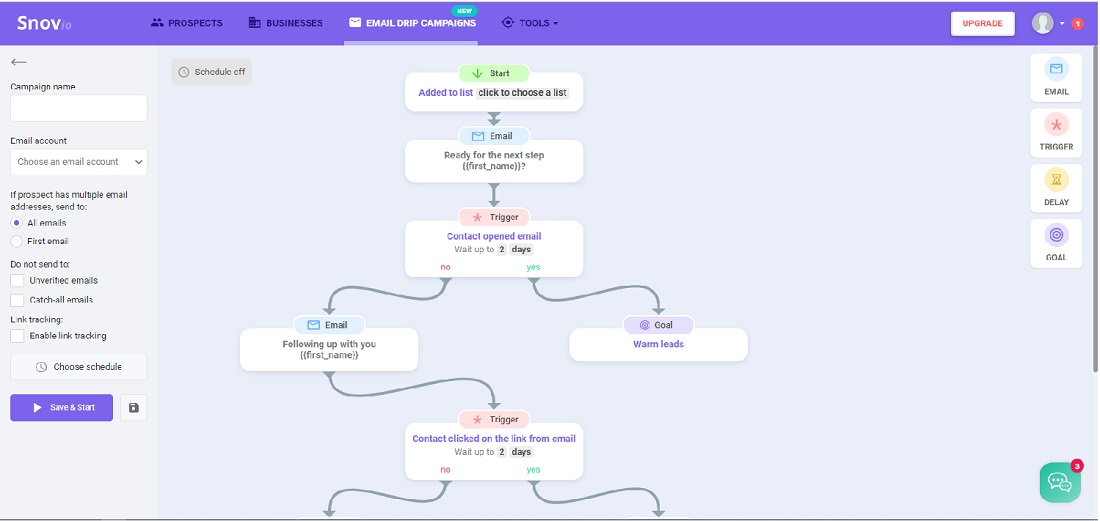 It's super-easy to build an email drip campaign with Snov.io. You can design your custom email sequence to success in a matter of minutes or use the pre-created campaign templates. Snov.io provides a dashboard where you can drag and drop the campaign elements to make a complete plan for your mission. Starting from adding an email list to archiving your goal and following the statistics. You can draw an email chain for your goals and see your visionary strategy drawn on a digital screen.
Add triggers and delays between elements, personalize every email and subject line, let the recipients unsubscribe, attach files and links, insert the professional email signature, and set goals. All those features are within one platform and all of them are unlocked. Great, yeh?
What else Snov.io Email Drip Campaigns can do
Keep your cools because the show has just begun. Using this tool, you can even schedule your email sending behaviors. For example, if you know that a certain group of customers live in a definite time zone or they are more active in the evening and will click your link at 9 PM, why send them your drip emails at 7 AM or 8 PM? Doesn't make sense, right?
With Snov.io, you can set a timer that will automatically send your already saved drip campaigns to your email list at a definite time so you will never miss a customer!
Statistics are worth more than anything else
Sending your emails to a potential audience is not the achievement and that is the reason why Snov.io has equipped their dashboard with an analytics option where you can monitor your campaign success. On this page, you will be able to see the engagement of the email recipients. These statistics can be a turning point for your business because they indicate the success factors of your email drip campaign. These analytics provide you with an opportunity of changing your game plan if the previous one was not effective.
My personal verdict
Snov.io Email Drip Campaigns has helped me achieve what I had always dreamt of as a company and the number of my loyal customers are increasing by leaps and bounds, thanks to Snov.io.
If you still doubt, it would be better to try it first and only then conclude.