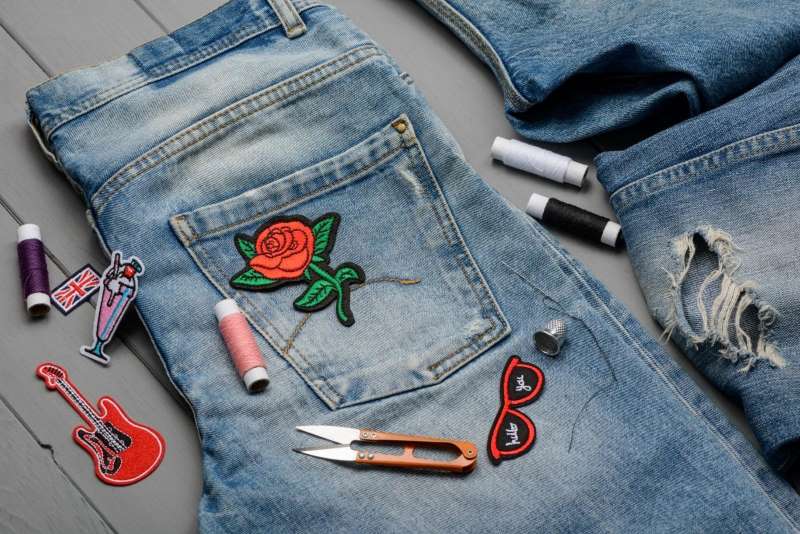 If you've just gotten an awesome mini patch, you might be confused as to where to put them. It's a permanent choice, so you don't want to make it wrong. If you've never had them before you might not even have any ideas.
While it's hard to make an actually wrong choice with these versatile little pieces of art, here are some great ideas to get started.
Put Them on your Jeans 
You will see a lot of denim on this list, and for good reason. denim and patches are a classic pair. Adding a mini patch to your jeans can take them from a basic to a statement piece that you'll want to play up with your favorite T-shirts.
Make a Battle Jacket
A classic jean jacket is probably the most common place to put patches. they're a great choice, and can be made to suit most styles. Mini patches come in a ton of different styles to match your personality. customized patches can take a plain jacket and make it punk, vintage-inspired, or even kawaii style. It is a blank canvas.
If you want to take it in a different direction, patches also look great on a leather jacket, or even an army surplus store canvas one.
Design Your Own Throw Pillow 
Patches aren't just for clothes. A mini patch can add serious flair to a throw pillow. . This is easier if you have an iron-on patch, or if you can take the cover off. Still, you can make any patches work on your pillow. Even if it takes a bit of creative sewing.
Create a Statement Bag
Bags are a place that just seems natural for patches. you can add them to a tote bag for a cuter way to get your groceries home. They look great on a backpack too, especially if you're still in school. Just sew it on the front and rock it.
If you want a more fashion-forward bag, try adding mini patches to a vintage leather piece you find second hand. This combo can be found all over the runway, making it for an elevated vibe.
Make an I-pad Cover Cute
It can be hard to find cute cases for tablets and kindles. Patches can take a boring but effective one and make it match your personal style.
Iron-on patches make adding a mini flag patch or another little statement especially easy. Just find a plain cover you think would look great with your patch, and iron the patch onto the cover by following the included directions.
Make it yours with a Mini Patch
The best fun thing about a mini patch is that it makes whatever you sew it to unique. It's no longer just the piece that you bought at a store off the shelf. It becomes a one of a kind creation. Hopefully, this guide has given you some fun ideas to get started.
If you like that please read on, we've got tons of great fashion ideas.