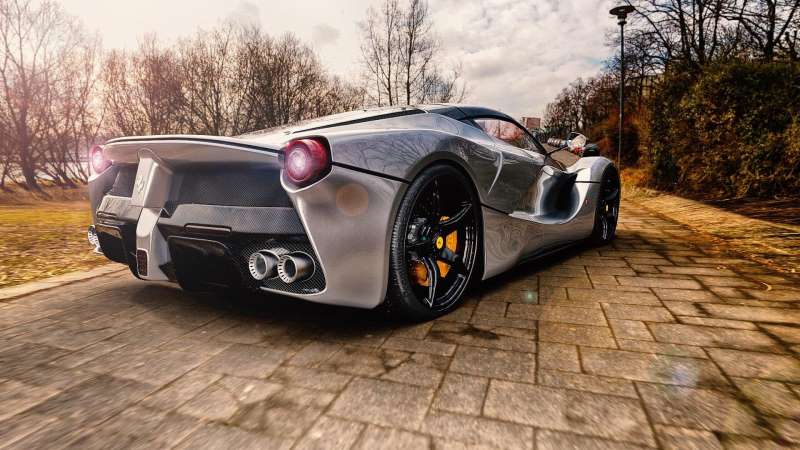 The world's all about hybrid cars and eco-friendly travel these days. So, it's great to see that we don't need to say goodbye to the stylish sports cars of yesteryear.
All the best luxury cars are now available in hybrid versions too and they're still as cool as ever.
In fact, Ferrari's latest innovation manages to produce a staggering 986 horsepower from its latest hybrid sportscar.
That means we can still enjoy the guilty pleasures associated with the best luxury fast cars. Even if we're looking for environmentally-friendly alternatives.
These are our Big five when it comes to the best luxury car brands.
Ferrari
When you buy a Ferrari you become part of an elite community of motor enthusiasts. As such, Ferrari's been on the wish-list of well-heeled motor vehicle enthusiasts since 1939.
Although it's best-known for its supercars, it's always been a strong contender in the ranks of the world's best all-around luxury car brands too. In 2014, Ferrari gained recognition as the world's most powerful brand and it's still one of the most recognizable cars on the road today.
Porsche
Porsche rose to fame due to the popularity of the 911. Yet, it's expanded it's stable to include a range of top-notch vehicles, like the Boxter, Cayman, Panamera, Cayenne, and Macan.
In keeping with modern automotive preference, with the Macan and Cayenne, the brand's also managed to dabble successfully in the luxury SUV market. They've also manufactured the most expensive electric car on Earth.
While these vehicles place performance above all else, you'll find no shortage of luxuries and tech innovations inside.
Jaguar
Jaguar's latest tin-can car made from recycled aluminum cans has caused quite the stir among environmentalists and motor car enthusiasts alike.
Yet, that's nothing new for this plush brand. Jaguar's always been a head-turner thanks to its sophisticated, unique looks and association with James Bond movies.
The Jaguar brand came about in 1922 and despite mixed fortunes, it's managed to produce some of the world's most iconic vehicles.
Lamborghini
Another masterpiece of Italian design, Lamborgini's been around since 1963 and is another regular contender for the top spot among the world's best luxury cars.
Like Porsche, Lamborgini's branched out into the realm of SUVs and hybrid cars. The Lamborghini Sian fills the hybrid gap for this brand and boasts a total output of 819 horsepower.
McLaren
McLaren's more famous on the racing circuit than off but it's also jumped on board the hybrid bandwagon. The brand's currently working on a new V-6 hybrid supercar, set to launch in 2021.
These sports cars are best-known for their speed and handling capabilities with less emphasis on interior finishes and high-tech driver-assistance features.
It's still a beautiful, sleek, and sought-after car with many fans around the world.
Beyond the Best Luxury Car Brands
It's inspiring to see the best luxury car brands sticking to their guns when it comes to producing stand-out vehicles despite moving towards more eco-friendly vehicles.
They've managed to upgrade the image of hybrid vehicles as inferior alternatives to their gas-guzzling relatives and proved that you can have the best of both worlds.
Keep browsing our blog for more interesting information on motor vehicles from around the world.