Whether you are staying indoors for months or are fortunate enough to live in an environment where you enjoy a yard throughout the year, no-host brings more excitement than the great outdoors. Throwing a garden party creates beautiful experiences. The warm weather, singing birds, and shining sun will definitely put a giant smile on your face and your guests' as well. Use these 5 creative ideas to host a memorable garden party that will remain the talk of the town for months and even years to come.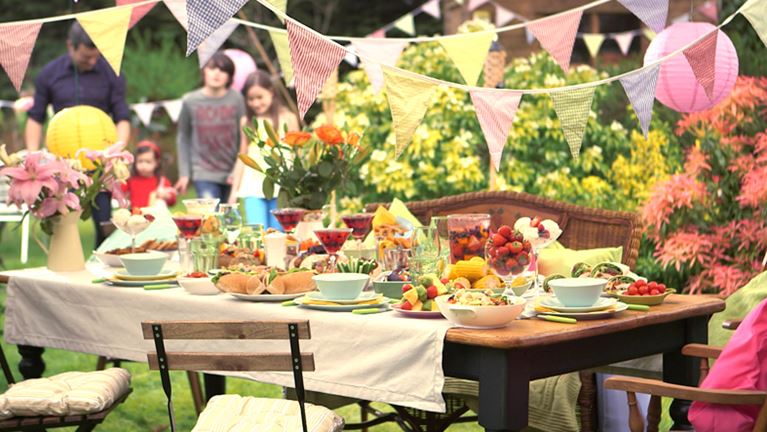 1. Choose an Appropriate Theme
Start brainstorming themes for guests by creating party ideas that can be entirely achieved in an outdoor setting. Organize a backyard BBQ, an outdoor movie night, or even a champagne party. Since the whole event can occur outdoors, you can concentrate your hosting commitment in one place. However, don't forget to reserve indoor spaces where guests can take a breather from the elements. Decorate entrances, kitchens, and bathrooms with furnishings that suit the theme of your garden party.
2. Prepare Sufficient Seating
Your backyard site should have sufficient seating to accommodate all of your guests. Consider creating a mix of your ordinary patio furniture with alfresco stools and pouffes. If you want to create a picnic feel, consider laying thick blankets on the grass and speckling them with large floor pillows. Remember to clean both the deck and stairs prior to the party since some of your guests may decide to sit on your staircases. If you want to create a stylish camping party, fill king-sized tents with pillows and blankets. Put Flameless candles and hurricane candle holders into your lanterns to generate soft, atmospheric lighting.
3. Beautify the Party Space
The exquisiteness of a garden bash is that nature acts as your centerpiece. Due to the presence of lavish greens and colorful blooms, you will only require minimal decorations to liven up the space. Meticulous arrangements of flowers on the buffet table and side tables will usually work magic. When the sun sets, candle-lit lanterns along with lights wound across the patio or trees will set the mood. Tiki torches or citronella-scented candles are effective when it comes to keeping mosquitoes away. 
Transform the decoration of your outdoor space into an exciting activity by investing in some unique accessories to help you add playful touches. Achieve a tropical island vibe by adding a palm tree or blow-up flamingos or a nostalgic nautical feel by incorporating red or blue striped chairs. If you pick a theme like a pastel, the tropical or coastal party arranges coordinating plates, serving bowls, and napkins to tie the gorgeous look together. Consider using a PVC tablecloth where possible to allow reusing immediately after wiping it down.
4. Select Music that Complements Your Party Theme
Choose music that suits the mood of your outdoor event or come up with a playlist that changes from vigorous and lively to cool and soothing as the night advances. Entertain your guest by availing some fun activities to keep them busy the entire day. Games like giant Jenga, quoits, or boules are ideal for both children and adults. You can also organize interesting backyard games like croquet, horseshoes, a beanbag toss, or bocce. A limbo or hoop competition would be a perfect choice for a vintage-inspired party. Use radiance necklaces and bracelets to set up a glow-in-the-dark disc toss game, which is ideal for evening parties. Set up your outdoor photo booth by suspending a huge cardboard frame from a tree and supplying summer-themed accessories like beach balls, umbrellas, and brightly colored sunglasses.
5. Decide on the Menu: a Buffet Would be a Wonderful Choice
Most outdoor events prefer family-style buffets that allow guests to interact and eat simultaneously. Thus, you can transform your backyard-dining bench into a buffet. Arrange the dinnerware on either side of the buffet to give your guests convenient access to plates. This arrangement also creates a more casual style of dining. Enclose napkins and flatware in a caddie to reduce the buffet clutter. Ensure you have plenty of plates, flatware, and napkins on hand to avoid making countless trips to the kitchen during the event. If your garden has several mature trees that are great for the garden, you can create a magical forest setting by wrapping its trunks with small lights. Pick recipes that will survive the outdoors and serve the meals from huge platters and bowls. Add meals for guests with unique dietary restrictions like vegetarian, dairy-free, or gluten-free options.
Hosting outdoor parties require careful planning and incorporation of aspects of creativity. If you put the above 5 creative ideas into action, you will pull off a successful party. Consider asking your friends or family members to assist you with setting up and clearing away.