Longing for a peaceful and exciting getaway? You can turn that dream into a reality by indulging in the peacefulness of a breathtaking, crystal-clear lake in the heart of New Zealand's central volcanic plateau. Embark on this journey and plan your dream vacation with your loved ones. Leave the chaos and noise of everyday life and immerse yourself in the unforgettable memories waiting to be made at Lake Taupo.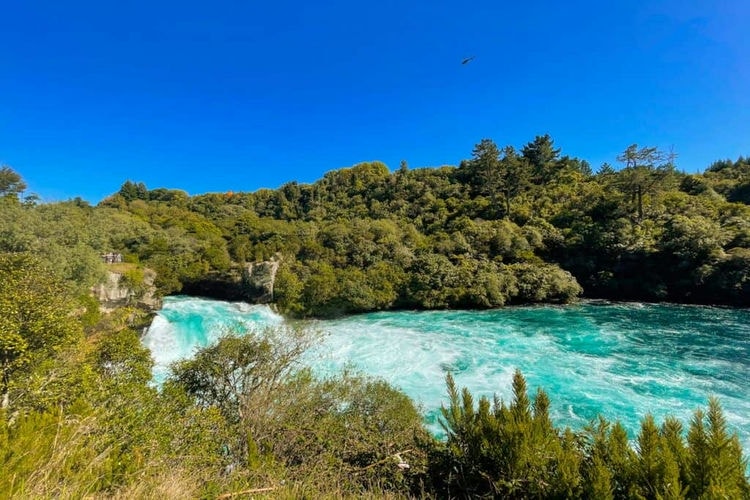 Largest Freshwater Lake in Australasia
Lake Taupo is about as big as Singapore, the largest freshwater lake in the Australasia region. This lake is famous for its amazing natural beauty and shiny appearance. Its super clear and calm waters are like a mirror that reflects the beautiful blue sky, making it a peaceful and relaxing place to visit. With its lovely surroundings, Lake Taupo is a fantastic spot for your family's next vacation adventure.
Holiday Park in Motutere Bay
Situated on the Great Lake Taupo shores, Motutere Bay Top 10 Holiday Park has something for everyone. You can park your van or pitch your tent close to the water's edge to see the shimmering water without worrying. But even the sites further have a great lake view due to the gentle slope of the park.
Motutere Bay has self-contained units and cabins for a little comfort. Halfway between Taupo and Turangi, this holiday park in Lake Taupo is the perfect place to explore the region.
What to Do at Lake Taupo
Lake Taupo presents a playground for endless discovery and meaningful connections, whether seeking adventure or relaxation, culture or nature. Embrace a world of endless opportunities at Lake Taupo, where you can make one-of-a-kind memories. Prepare yourself to explore the breathtaking natural wonders this remarkable destination offers.
1. Outdoor Adventures
If you always want a thrill and love the outdoors, you will enjoy Lake Taupo's natural wonders. For water sports lovers, the lake itself is your playground. The holiday park offers everything for your summer adventure, especially if you enjoy kayaking and stand-up paddleboarding (SUP). Lake Taupo also offers fishing for enthusiasts and is famous for its trout.
Lake Taupo also offers tramping, mountain biking, and its rich culture. If you love snow sports and plan to go for a winter adventure, Whakapapa ski fields are ready. But if you are someone who wants to stay dry, numerous hiking trails offer stunning views of the lake and surrounding landscapes. The Tongariro Alpine Crossing, one of New Zealand's famous hikes, is a nearby adventure.
2. Fun and Friendly Family Adventures
With a wide range of family-friendly activities, there is always something for everyone. You can enjoy a pleasing and relaxing lakeside picnic while adoring the stunning scenery or indulge in a game of mini-golf with your children.
The lake's shallow waters are ideal for your children to play in while you stroll along the lakefront. Lake Taupo will be a safe and enjoyable experience for the whole family.
3. Discover The Māori Culture
One must-see attraction is the Taupo Maori Carvings, which are conveniently reachable by boat. These stunning carvings are intricate and tell fascinating stories of Maori legends, providing an immersive cultural experience to your visit.
4. Enjoy The Local Cuisine
Lake Taupo is renowned for its delectable cuisine, which includes delicious seafood and the world-famous New Zealand lamb. You can discover nearby eateries and charming cafes or even have a go at preparing a traditional Kiwi barbecue at the holiday park. The diverse flavors cater to every taste, and using locally sourced ingredients guarantees an unforgettable culinary experience.
5. Enjoy Its Geothermal Wonders
One of the most prominent features of Lake Taupo is its proximity to the steaming geothermal valleys with rejuvenating hot springs. Be amazed at the terraces formed by geothermal mineral deposits while soaking in natural hot pools. The healing properties of the thermal waters are a bonus and a must-try at Lake Taupo.
6. Watch The Stars At Night
Recognized as Dark Sky Reserve, Lake Taupo is an excellent location for stargazing. The absence of light pollution gives you an unparalleled view of the stars and constellations. It's an enchanting experience that will leave you amazed at the vastness of the universe.
Your Journey's End
A holiday park in Lake Taupo is an unbeatable destination for travelers of all ages. Lake Taupo awaits your unforgettable family vacation with its natural and relaxing beauty, outdoor adventures, geothermal wonders, Maori culture, family-friendly activities, starry nights, and delicious cuisine.
Whether you're seeking thrills outdoors, a relaxing reconnection with nature, a healing soak in thermal pools, a glimpse into Maori heritage, or just a chance to enjoy with your family, Lake Taupo has it all. So, pack your bags and gather your family. Create memories of a lifetime in a holiday park in Lake Taupo!