Are you thinking of remodeling your house?
Then adding a patio to your property is one of the best options to look into. Not only can an outdoor patio take your home's curb appeal to the next level, but it can also increase its resale value.
To succeed in this, you need to familiarize yourself with some of the best outdoor enclosed patio ideas that are perfect for homes. What exactly are the outdoor enclosed patio designs that are worth applying? What are the key elements to consider if you wish to build outdoor enclosed patio extensions?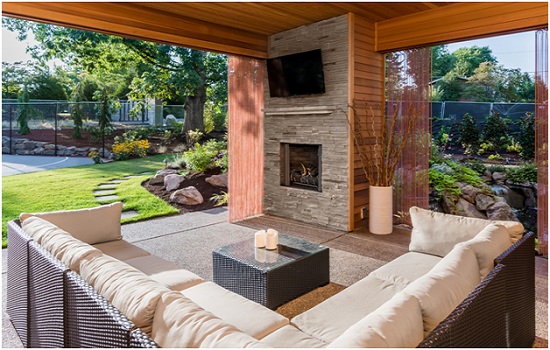 Continue reading below for seven beautiful ideas for your outdoor patio.
That Dark and Cozy Feeling
Are you the reserved type who embraces a minimalist approach to things? Whether it is greenery or a lakeside view that's fronting your home, an enclosed outdoor patio with wood paneling is an excellent choice.
Make sure to go for unfinished wood for the paneling. The unfinished effect is the element that will provide that warm and cozy feeling. This is what makes patio dining such a popular choice and trend nowadays.
Since you're taking on a minimalist approach, keep the furniture to a minimum. A sofa, a couple of chairs, and a small table should be enough to keep that dark but heartwarming vibe.
Modern and Floral
If you want something with a modern touch for your contemporary home, a screened patio with a dash of floral touch is something worth considering. The beauty of screen rooms is that they work well if you wish to enclose your patio without compromising the fresh outdoor breeze.
Since the patio features a screen instead of glass, you can get extensive sun exposure or the cooling effects of the wind, depending on the weather. Moreover, you don't have to worry about flies and other insects entering the patio.
As for the floral touch, they will come in the form of your furniture upholstery. There are plenty of floral designs you can use as covers for your chairs and sofa.
Glass With Class
If you're looking for a more look for your patio, invest in beautiful glass that will give that instant classy vibe. Glass simply gives that elegance regardless of the outside view that you have.
Thus, extend the use of glass to your patio's roof. This will yield extensive natural light even during the evening. This also makes your patio a romantic spot for intimate dinners under the moonlight.
To add zest inside the patio, place a white couch and a circular table. Surround the latter with chairs that come with white upholstery.
The Sunroom and Floral Garden Combo
Do you love flowers? Then incorporate a flower garden into a sunroom. Sunrooms are technically enclosed patios, only that they connect directly to your house.
They also carry the same colors as your home, making them look like an additional room. Though sunrooms come with a roof, they have large screens that invite extensive amounts of sunlight inside.
As far as inserting the floral garden into the equation goes, install one on each side of the sunroom. This gives you a refreshing view of the flowers as they bloom.
Also, to break any monotony, stick to brown wood for your floral garden. As for the sunroom, white or light grey are good choices.
The Wooden Deck
If you want something with a traditional look, you will never go wrong with a wooden deck. But make sure not to touch the wood by leaving it as is. If you picked a light-toned wood, complement it with some dark furniture.
You may also elevate things literally by elevating the deck to the second level. Here, you will have to add wooden stairs with metal posts into the design.
Furthermore, use a gable roof to cover the deck. This will give the extension that coziness your guests will love.
Alternatively, you can go for a wooden barn house aesthetic. Pull this off by patterning your patio after the shape of a barn. Add some dark-colored furniture for that perfect contrast.
Green and Wick
If you are a die-hard plant lover, consider building a greenhouse-like porch. Here, you will put some train vines that will crawl along the walls and pillars of the porch. As for the ceiling, you want to use glass panels.
Alternatively, you can take the greenery inside your patio by placing decorative plants in every corner. Pick some lush plants that will add to the peaceful vibe inside the patio.
Additionally, complement the plants by placing wicker furniture in different colors.
Going Light on the Colors
You can go for a light-colored aesthetic for a warm and inviting vibe. Use any shade between white and light grey and you will be fine.
Accentuate the look by adding some vibrant green plants around the patio's interior. As for the furniture, stick to white chairs, and a white table and sofa. But use something darker like blue for the upholstery.
Reminders Before Working on Your Outdoor Enclosed Patio Ideas
Also, we need to remind you that there are key considerations when building a patio. Careful planning is essential regardless of the outdoor enclosed patio ideas you use.
First, you need to determine the purpose of the patio. Is it for entertaining guests or an additional space where you can relax privately?
Also, you need to come up with a budget. From there, you can find the right elements that you can work around with. You can also check out The Ultimate Guide to Patio Covers for information on patio covers.
Last but not least, consider the space, location, and materials. Your design will rely heavily on these three factors.
Learn About Other Home Improvement Projects
Through these beautiful outdoor enclosed patio ideas, you can get the right inspiration for building that perfect patio for your home. A patio is only one of the many different additions you can incorporate into your property, though.
Thus, we invite you to learn more about other home improvement projects. Check out our other articles for more ideas that will make your home more beautiful and valuable.