The festival season is on, and so is the shopping extravaganza on the Internet or mobile. This is the time when retailers push their limit to reach out to their audience. However, everything that glitters in the form of discounts and savings can't be gold.
Here are some online shop hacks to grab the best deals on products you want to buy and maximize your savings.
1. Shop incognito to avert retailers offering you "new" customer benefits
Browsing in the incognito or private mode helps you to downplay the tricks that eCommerce players apply to identify the repeat visitors and change their prices based on the preference, interest and location of the users. Through incognito, you always remain a new user for the website, and the likelihood of getting the best or low price increases for you. As part of their customer acquisition strategy, many online retailers offer discount coupons to first-time visitors.
Tweak the settings of your browser to reach the incognito mode. In Chrome, use "Ctrl+ Shift + N"; in Firefox, use the Menu settings available on the top right corner; in Safari press "Command + Shift + N". Check the Help section of your browser to know more.
2. Use multiple e-mails or phone numbers to grab more discount coupons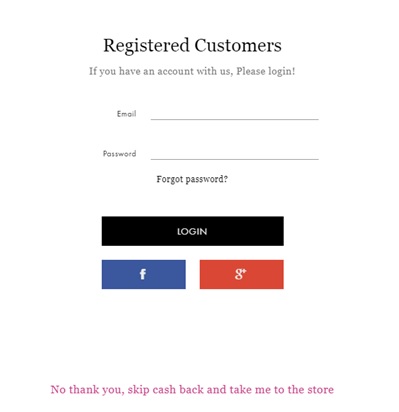 Generally, retailers ask their users to subscribe or register to their website or app to receive discount coupons and cashback offers. Using multiple emails or phone numbers, you can create multiple profiles and receive discount coupon and cash back separately to maximize your savings.
3. Look for trusted discount coupon or cash back sites or apps
Shopping on a retailer store or brand website/app, you limit yourself, by available products, discount and cashback offers. Look for discount coupon or cash back platforms like Kiindly that list products from multiple stores like Amazon, eBay, Walmart, Macy's, etc. With more options available to shop from, the probability of getting better shopping deals maximizes automatically. Some cashback apps take you to the deal or product page of the retailer, while others might pull in the entire store of a merchant to help you compare prices and offers before you move on to the Add to Cart or Checkout page.
4. Set alerts or accept push notifications from coupon or cashback websites
Push notifications often sound annoying, but they can help you in the festival season to grab amazing shopping deals. You can disable them easily, once your shopping requirements are fulfilled. Enable push notifications from trusted shopping, discount or cash back businesses like Amazon, etc.
5. Check price comparison sites/apps to compare product price, discount offers, etc.
Price comparison sites like Google Shopping (available in more than 20 countries including the US, UK, Canada and Australia), BizRate (Currently available in the Canada, France, Germany, UK), NexTag (available in the US, the UK, AU, France, Germany, Japan), etc., can be helpful in maximizing your savings. Use the built-in filter features to look for products from your favorite brands.
6. Abandon shopping cart to compel retailers offer discount coupons
Open your favorite shopping or discount app website, choose a product, add it to your shopping cart and move to the checkout page, and then abandon the shopping. Sounds strange? This is simply no kidding. This makes the retailers worried. To grab your attention and get you back, they might offer you some discount coupon or cashback offer on the purchase.
7. Collect and redeem reward or loyalty points
Some online businesses and credit or debit card issuers offer reward points on purchases made, which you can use later to shop other items. Some stores provide reward points or special discounts when you do the transaction of their partner banks. Take a look at the terms and conditions of the shopping platforms regarding reward or loyalty points.
Hope you found the online shopping tips useful in finding the right shopping deals to maximize your savings. Cheers!