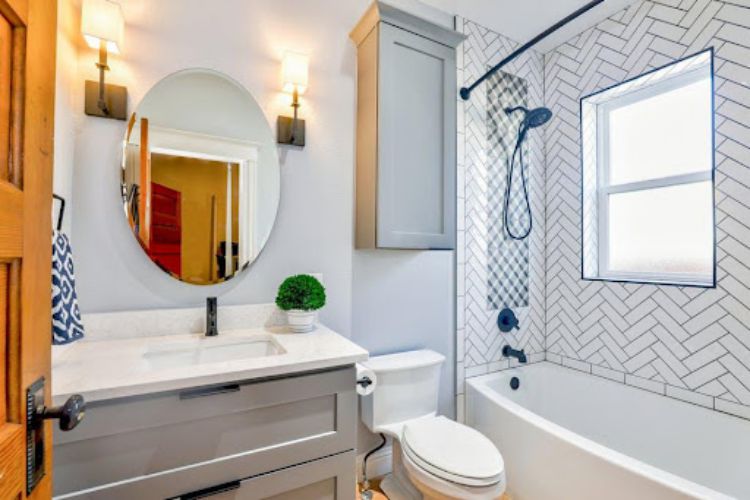 A simple bathroom shower remodel can yield dramatic results. Dark and dingy bathrooms are transformed into fresh, beautiful rooms by just applying some fresh paint and a little bit of style. 
Although replacing an entire shower with a new one is an option, it is not the only way to update the iconic feature in your bathroom. There are tons of ways to update a shower without having to replace it entirely.
Here are three tips for getting started.
Define the Scope of Your Project
It is important to first define the scope of your project. What are your goals for the remodel? Are you looking to simply update the look of your shower or are you planning a more extensive remodel that will include new fixtures and tile work?
Once you have a clear sense of what you would like to achieve, you can begin to research shower remodeling options and gather inspiration from sources such as magazines, websites, and home improvement stores.
Set a Budget
Setting a budget is an important aspect of bathroom remodeling. By knowing how much you can afford to spend, you can make sure that the project stays on track and within your means.
There are a number of ways to set a budget, including using a software program or speaking with a financial advisor. Whichever method you choose, be sure to include a buffer in your budget to account for unforeseen expenses.
Choose Your Materials
You have many options when it comes to materials, so you need to decide what you want your shower to look like. Some factors you may want to consider are the durability of the material, the cost, and the maintenance required.
Once you have decided on the materials you want to use, the next step is to start planning your shower design. 
Whether you want a complete bathroom to remodel or you're just looking for some materials like frameless shower doors, Community Glass & Mirror is a good option to shop.
Common Mistakes
When remodeling your bathroom shower, avoid these common mistakes:
Not Planning Ahead
Before starting your project, measure the space and determine what type of shower you want. Draw a sketch or use a computer-aided design program to plan the layout of your new shower.
Not Considering Drainage
Make sure your shower drains properly. If you're installing a new shower, consult a plumber to ensure that the drain is installed correctly.
Not Waterproofing the Shower
Waterproof your shower before you install tile or other finishes. Use a waterproofing membrane or liner to protect your shower from leaks.
Not Ventilating the Shower
Ventilate your shower to prevent mold and mildew. Install a fan or vent in your shower to circulate air and keep the space dry.
Plan Your Bathroom Shower Remodel with These Tips in Mind
A new bathroom shower remodels can completely change the look and feel of your bathroom. With these three tips, you're on your way to a brand new bathroom shower. So what are you waiting for? Get started today!
For more home improvement tips and tricks, feel free to check out the rest of our site.