When you are planning on renovating your home to bring it up to modern-day standards, there are a lot of factors for you to consider in order to ensure that the project ends up successful. One of the most important, yet not readily considered factors is how you will manage the waste generated as part of the home renovation project.
For this purpose, you as a homeowner needs to consider the pros and cons of the two major options that readily come to mind; whether to hire a local dumpster rental service or to choose junk removal service.
While both options that readily come to mind provides you with several similar and diverse advantages, there is a need for you to consider more deeply the scope, size, and scale of your renovation needs before making a final selection.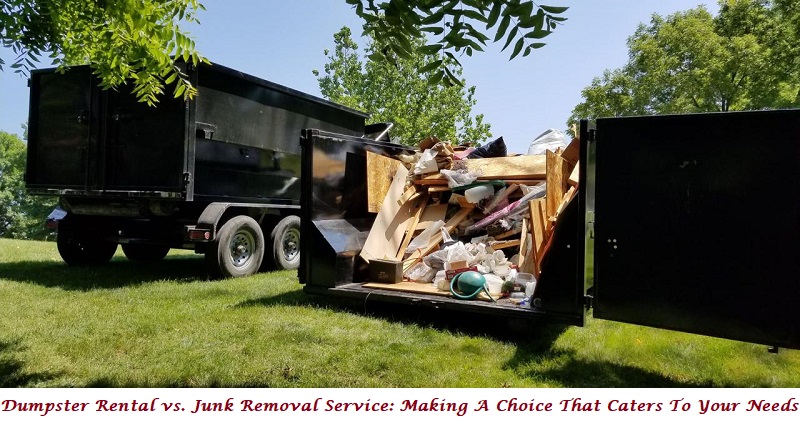 The size, scope, and scale of the home renovation project play an important role in the selection process as you want to make sure that the final decision made provides you with an easy and convenient waste disposal option. When it comes to making a decision, below are some of the factors you want to put in perspective.
Length of the Construction Project
When making a decision as to whether to choose a local dumpster rental service or a junk removal service for your home renovation needs, start by considering the estimated length or duration of the project. Typically, a local dumpster rental service will provide you with flexible garbage bin rental services that can last from a week until you require it. A junk removal company, on the other hand, will only come upon demand to pick up unwanted items. If your construction project will span a longer period of time, it is recommended that you secure the services of a local dumpster rental service company as this will save you more money and overall reduce your overhead cost.
Pricing
As a homeowner interested in renovating your property, surely, budgeting is one of the things you are interested in. cutting as much cost while not compromising the quality of the construction project should be your top priority. To make this happen, you need to ensure that you consider the pricing offers for both options set before you. A local dumpster rental service may charge you lower but you will bear the cost of obtaining a permit while a junk removal company will charge you based on the number of trips made to your home and in some cases, based on the type of junk being removed and the weight of the junk. Be sure to weigh out the options.
Amount of Material
You should also be willing to consider the amount of material that is to be disposed of. For a few large items that require disposal, a junk removal company may be appropriate, however, when dealing with more materials, especially construction waste, it is most recommended that you choose a local dumpster rental service.
Choosing a Dumpster Rental Company
Choosing a dumpster rental company is essential to the smooth running of your home renovation project. The choice of the company should be based on factors like their years of experience, quality of services provided, waste disposal response time and overall, the pricing of the dumpster rental service. As a rule of thumb, it is recommended that you choose a dumpster rental company that is in your local environment. This guarantees a faster response time and also ensures that you can physically communicate with the company to lodge complaints if need be.
The Dumpster Rental Process
After choosing the right local dumpster rental service provider in your area, there are a few things you need to know to ensure that you make the right choice for your waste disposal needs. Whether it is a commercial demolition project, home remodeling project, expansion project or new construction, below are some of the things you need to be aware of.
– Picking a Size
As part of the process, be sure to pick a dumpster size that will best cater to the needs of your construction project. When choosing the dumpster size, it is recommended that you do not focus only on the price as this may becloud your judgment, making you choose sizes that are lesser than your needs. When you choose sizes smaller than what you need, you risk paying even more to the dumpster rental company.
– Choose the Drop-off Location
The drop-off location is important. In most cases, it is recommended that the drop-off location should be as close to the construction site as possible. By doing this, you are saving yourself the extra cost of transporting the waste from the construction site to the dumpster's location.
– Schedule Delivery
After making all the plans, a final aspect is the delivery of the dumpster. Be sure that you schedule a time when you will be available to take the delivery of the dumpster. Doing this will allow you to guide the drop-off team on the best possible place to locate the dumpster for easy access.
Items You can't Put in a Dumpster
Although a local dumpster rental service is most perfect for roof replacements, home remodeling, yard landscaping, spring cleaning and decluttering, there are several items that are not allowed.
Below are some of the items you should not put into the dumpster.
Paint
Pesticide
Electronics
Batteries