Wouldn't it be great if you could keep a single bike for on-road and off-road activities? Well, nothing's stopping you! While a lot of dirt bikes are not street legal, some are, and you can convert any off-road bike into a machine you can legally register and commute with as long as you know which upgrades to add. Here's your chance to learn what those upgrades are going to be for an off-road bike that wasn't born to be a dualsport.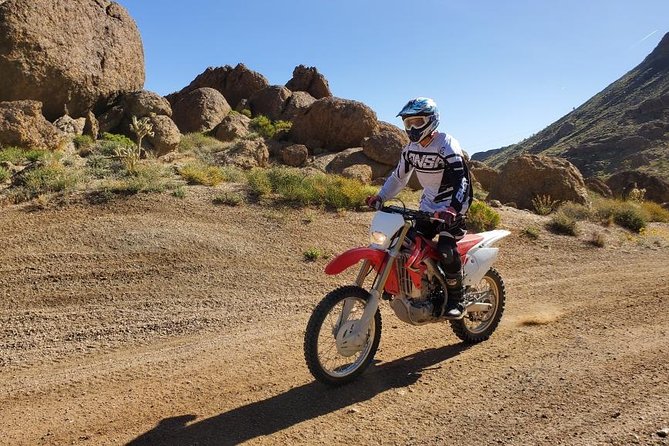 Street Legal Conversion Checklist
Here are the things the average dirt bike needs before you can register it legally as a road vehicle, according to federal guidelines and requirements universal to every state. Most of these upgrades can be found wherever you go to purchase the best dirt bike aftermarket parts from your favorite manufacturers:
DOT-approved headlight upgrades
Functional tail lights from a DOT-approved manufacturer
Street brakes that meet federal guidelines for highway use
Mirrors
A horn that suits your state's requirements
A street-legal exhaust system
Street tires that meet DOT minimums for on-road use
This will take you most of the way there, but not all the way. While every state requires a horn and at least one mirror, you'll need to research how to make a dirt bike street legal in your state for more details. While reading up, check for additional guidelines you don't see here, because each state also has specific requirements of its own for registration. You might also want to consider some optional upgrades like turn signals even if they aren't technically required for your state, just as quality of life improvements for the road.
Paperwork for Registering Your Dirt Bike
Once you've upgraded the bike with Affirm dirt bike parts and other necessary add-ons to meet federal and state requirements, you still need to actually make the bike street legal. Fitting the definition is just the first step, there's still registration, licensing, and getting your yearly tags. Some states make it easy to do this yourself with a simple form at the DMV or Secretary of State. In other states, it's better to hand over the process to a legal service that takes care of the bureaucratic side for you. This allows you to show up for an inspection, fill out a few forms, and wait for your new paperwork, without a lot of frustration or waiting in line to ask questions.
Bikes Born To Be Street Legal
If you're shopping for a new dirt bike, there's a simpler choice for getting a street legal model. Dualsport models are built to be street legal in the United States, but they're still dirt bikes capable of being outfit with the performance parts you need to get an edge in competition. If you already know you want a dual purpose bike, consider saving some up-front cash and buying any of these top dirt bike models that are built for street registration.
The Honda CRF250L
The Yamaha TW200
The Kawasaki KLX250
The Suzuki DR650S
These are just a few examples of the choices you've got. If you're concerned about the ability of these street legal dirt bikes on the track, don't worry. Not only are they great performers on tract, trail, and road, they're easy to upgrade. That means instead of investing in a conversion to register them for the road, you can put your money into the performance parts you swap in when you're ready to hit the competition circuit and take the lead.