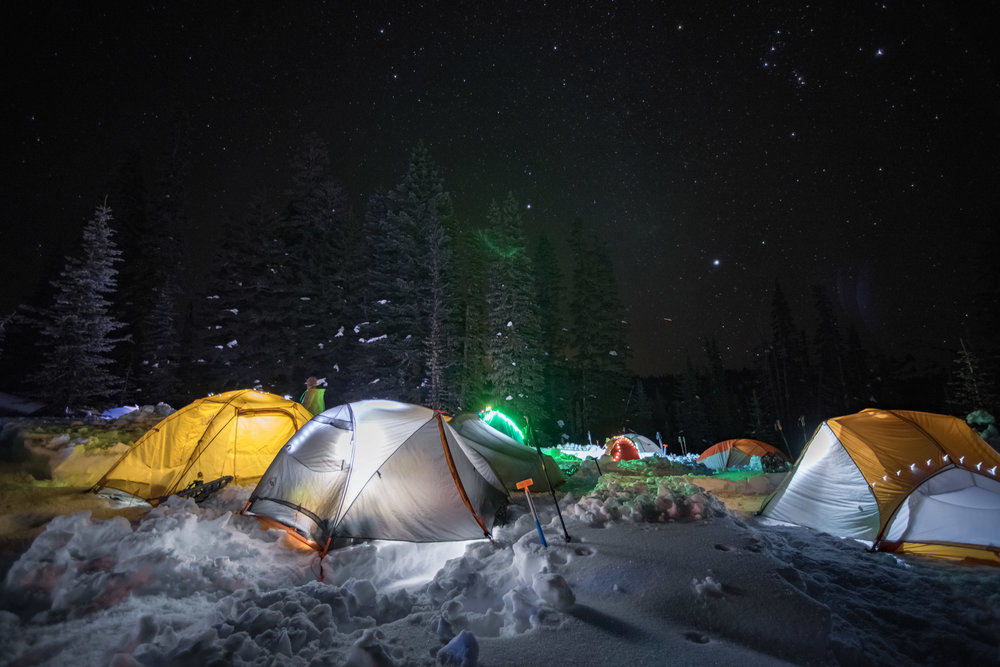 For some, a drop in temperature means getting a backpack and hauling everything they need for winter camping. While for others, they get hesitant whenever they think about sleeping at night in the winter-silenced woods. No matter how you camp in this cold destination, here are some tips for winter camping that will help you make it through the bitterly cold winters. This small guide will help keep you warm and still have a great camping experience in the snow. 
We'll talk about what gear to bring, what to wear, and how to make your camping experience more memorable.
Tip #1: Sleep Smart
To get a wonderful sleep in this frozen wonderland, you have to have the right sleeping gear and the knowledge to use it correctly. This will ensure that you will still have a warm and enjoyable night, being cozy with the snow falling around you.
Gear Selection
Getting equipped with the right gear for the snow should be in the first step of your trip preparation.
Sleeping Bag
Your knowledge of the average low temperature in your area will help you find the right bag. Look for a bag that is 10-20º lower than the predicted level. However, your experience may vary, which might be affected by other factors of the sleeping mat or additional layers and shelter. 
Sleeping Mat
The sleeping mat is the barrier from the snow on the ground. Having the right one will help keep you warm throughout your camping time. Sleeping mats are not the same, so you should be particular about features to prevent your buns from freezing. Mats can insulate and resist heat transfer, which is called the R-value. When the R-value is higher, the warmer you will be. 
Shelter
The shelter depends on your adventure and may vary on what the area allows. You can ask your guide or the local outfitter regarding your conditions. Bear in mind that the shelter may collapse if there is too much snow collected on top of the tent. Consider the shape to prevent this from happening. Usually, tents with steep sides will work in this situation as snow will naturally fall off, the same way with dome designed tents. 
Tip #2: Snow Camp Setup – Selecting a Spot 
Hazards
When choosing the spot where you will set up your tent, make sure to check on the overhead trees. Since the snow can weigh down tree branches, it may result in branches falling off. In short, it helps if you check the surrounding tree's overall health.
Fire
Before going to the snow campsite, make sure that they allow lighting a fire. It usually depends on your elevation.
Tip #3: Layer Up
When you are going for snow camping, expect that your clothes will be a layer on top of a layer. Being prepared with clothing that can warm you up on an icy morning will let you do everything you have planned and hang out around the camp comfortably.
Clothes to Pack
Sleeping Clothes
Sleeping clothes should have a thermal base layer, a thick and warm pair of socks designed for sleeping.
Day Clothes
Have an idea of how many sets of day clothes you will need to bring. It is recommended that you have a separate set of thermal base layers under your day clothes. Since when you have warmed up due to your activities, you can remove your thermals and proceed with your activity. For your hands, it is better to have a pair of waterproof gloves or ski gloves.
Tip #4: Keep Dry
Since it is a snow camp, expect that you will be surrounded by wet stuff so keeping dry needs an extra effort. 
Keep Your Waterproof Gear Ready
Always wear your waterproof clothing, especially when it is snowing or raining. Keep your waterproof gear handy, hoods out zipped up and tucked clothing in.
Tip #5: Eat Right
Calories
Burning calories keeps the body warm so the desired body temperature is maintained. So when the temperature keeps dropping, the more calories are burned,. This means you will have to eat enough to gain extra calories or else your body will struggle to stay warm.
Camping in the snow needs some extra effort compared to camping during summer. But if you want extra adventure, get out there and have fun in the winter. Stay warm, safe, and informed through going through these helpful tips. Preparing ahead can make your trip stress-free, exciting, and enjoyable.