When most people get dressed for an airplane flight, their main concern is comfort. The goal is to put on something that's comfy enough to relax while flying.
But just because you put on a cozy outfit, doesn't mean you can't travel in style. After all, you never know who you might bump into on your journey, right?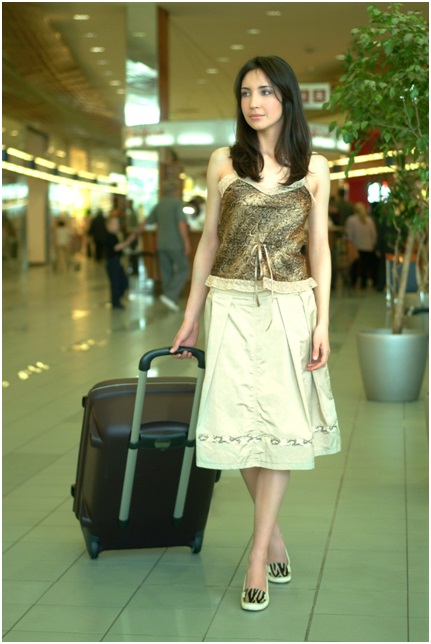 With that said, if you're interested in learning what to wear on a plane, check out these tips below:
Spruce up Your Leggings
One of the primary clothing items that women reach for prior to their flight are leggings. For the fellas, it's usually sweatpants. But if you're going to wear those types of bottoms, spruce them up a bit.
There are plenty of gorgeous leggings with patterns or zippers that you can pair with a denim top. It's a great way to add a little pizzazz to a standard clothing piece. And guys…how about trading those sweatpants for some comfortable jeans?
Wear a Neck Scarf
Nothing says "I'm putting in effort" like a scarf. Even when you have on a basic looking t-shirt and jeans, pairing it with a beautiful scarf takes your outfit to the next level. Give it a try!
Shoes
When you're trying to think of what to wear on a plane, you may forget about your feet. For most people, tennis shoes are the go-to footwear for flying because they're comfortable.
However, they're not the easiest in terms of slipping on and off— especially when you want to get comfortable on the plane.
There are a lot of cute, flat shoes that you can wear to spice up your outfit. Try to find something that's comfortable to walk long distances in, but also pair well with your ensemble.
A Tailored Jacket or Blazer
A blazer is made for traveling in style. Not only do they look good but, they help to keep you warm on the flight.
You don't have to worry about having on a big bulky sweater, but it'll give you enough warmth to keep the chills away. Plus, it'll make you good look stylish all at the same time.
It's one thing to travel in style when you're flying commercial, but it's entirely different when you're flying on private jets. If you've elevated your flying game to private, then following these style tips will make sure that your attire is up-to-par— even when you're in the sky.
Travel in Style and Look Amazing
Hopefully these fashion tips make it easier for you to travel in style the next time you catch a flight. As you can see, it's possible to look your best and feel relaxed at the same time. Which one of these tips will you incorporate into your travel ensemble?
If this article was helpful, take a look at more of our website content. We publish topics related to fashion, health and fitness, technology, home and garden, and more.
Check it out!