When it comes to Breckenridge lodging, there are so many different options available to you. In fact, you could come back year after year, or even multiple times a year, and never stay in the same place twice.
There are resorts, hotels, bed and breakfasts, and vacation rentals to be had, or, if you want to spend some time in nature while enjoying everything this town has to offer, campsites nearby are plentiful as well.
The type of lodging that's right for you and your friends or family in Breckenridge depends on many things. What time of year will you be visiting? What kind of lodging do you like? How big (or small) is your party? Do you want to be in the center of things or somewhere on the outskirts?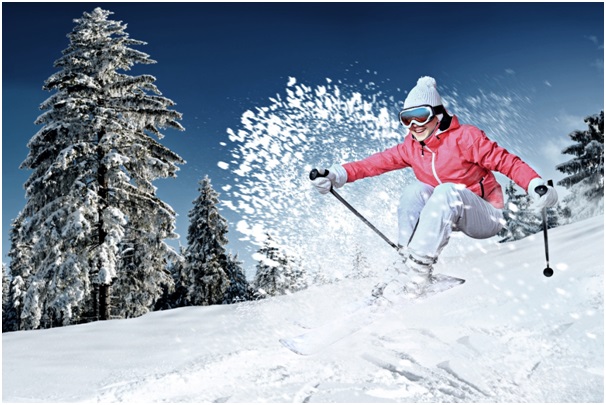 No matter what you like or want or need, there's something for everyone in Breckenridge. Read on to learn more about the options available to you in this great little Rocky Mountain town.
Resorts
Because of its firm placement in the top echelon of United States ski towns, it should be no surprise to anyone that Breckenridge has many resorts. Because of the large size of resorts and their required proximity to mountains, Breck's resorts aren't right in the middle of town, but because the mountain is right there, they are closer than you might guess.
Many people love the resorts of Breckenridge because of the amenities. Most have restaurants onsite, as well as pools, hot tubs, spas, game rooms, and more. Best of all – and the reason most people come in the winter – the ski slopes are just minutes or even seconds away.
There are many popular resorts in Breckenridge, including Beaver Run Resort and Conference Center, Breckenridge Park Meadows Lodge by Ski Country Resorts, and Marriott's Mountain Valley Lodge at Breckenridge to name a few. They are all unique and different, but there's something for everyone among them.
Hotels
There are also dozens of fantastic hotels in the Breckenridge area for you to consider. You can book one right in the thick of things downtown on Main Street like the River Mountain Lodge or Gravity Haus. Or, choose something a bit farther out on the mountain like The Lodge at Breckenridge or the Grand Timber Lodge.
These options are a bit less expensive than some of the resorts you'll find due to having fewer amenities and perks onsite. However, that savings may be well worth it to you when you realize how rarely you're at your hotel – there's so much to do in Breck!
Vacation Rentals
Some vacationers love the allure and convenience of vacation rentals. This Breckenridge lodging option is perfect for groups and families, and there are so many different options from which to choose. You can briefly live in a mansion beyond your wildest dreams or you can enjoy a condo with great views in a community with vast amenities.
No matter what you seek, you can find it as a vacation rental, but be careful; there are a lot of scams out there, too. You can choose one at random that is advertised online, or you can work with an experienced professional to find one that will be perfect for sure.
Bed and Breakfasts
If you want to have a romantic getaway with your partner, then a visit to a quaint bed and breakfast might be just what you seek. There are only a few of these in town and they book up fast, so if you want to stay in one you should book far ahead of your visit.
Many people love this form of lodging because of the high levels of hospitality they experience there, and the yummy breakfasts awaiting them each morning. The Fireside Inn is popular and is located in Breck's historic district within walking distance to everything. The Bear's End Bed and Breakfast is nearby and is also a favorite of visitors.
If you'd rather stay a bit further away from the hustle and bustle of town, you might try Mountain Comfort in nearby Alma. This property will give you quick access to Breckenridge skiing and restaurants while hosting you in a more classical and remote mountain atmosphere.
Camping
Although some people enjoy winter camping, most people do not, but if you visit Breckenridge in the summer you should absolutely consider spending one or more nights in a tent or camper. There are hundreds of campsites that surround Breckenridge and they all offer a true Colorado experience with impressive views and potential visits from friendly local wildlife.
There are numerous national forest and private campgrounds within a short driving distance from Breck and for most of them, you'll have to prebook ahead of time. However, the real gems of the area are the dispersed sites high above town on the road to Boreas Pass. These sites are first-come, first-serve, so you'll need to stake a claim early. However, if you do manage to score one, you'll have a high elevation camping experience that you'll never, ever forget.
Breckenridge Lodging Offers So Many Options
As you can see, there are so many different options when it comes to choosing lodging for your visit to Breckenridge. Whether you are just stopping in for a single night or plan on spending a week or more in this great little ski town, you'll easily find something that works for your budget, that meets your expectations, and that fulfills your desires for your stay.
The people of Breckenridge are friendly and welcoming and they can't wait for you to experience their home. Once you visit Breckenridge once, you'll want to come back time and time again, and Breckenridge lodging options will await you.
Safe travels to you! If you'd like to read more great posts about travel, check out the travel section of our site.