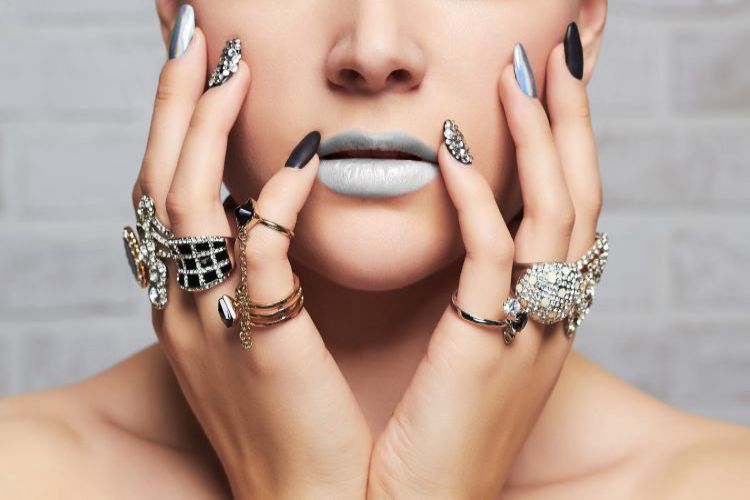 While some women prefer the look and feel of minimal jewelry or none at all, there are others who believe in building up their collection over their lifetime. 
If you're part of the latter group, this blog is for you. With so many different types of jewelry on the market today, how do you go about building a timeless, classic collection that will not only stand you in good stead but match almost every item in your wardrobe?
Here are some of the top jewelry pieces you want to add to your treasure trove for a well-rounded collection.  
1. The Timeless Cocktail Ring 
If there's one piece of jewelry that has stood the test of time, it's the cocktail ring. Popularized by the flapper girls of the 1920s era, the cocktail ring has come full circle and is one of those pieces every woman should have in her collection. 
There's nothing minimal or "less is more" about a cocktail ring, either. It's the one time you can splash out and opt for something truly glitzy and glamorous. And when you wear a cocktail ring, that's the only piece of jewelry you should wear, so you want to make it count. 
The ideal cocktail ring features a large gemstone of any color you prefer, sometimes accented by diamonds or cubic zirconia (CZ) stones. In other words, they're oversized and opulent — but you only really need one that you can pair with any outfit. 
It's one of those key accessories that dress up almost any outfit. Whether it's a simple pair of jeans and a white shirt, or a sleek and sexy LBD, the cocktail ring is the only accessory you need in this instance.  
Check out Dreamlandjewelry.com for a brilliant selection of rings. 
2. A Pair of Diamond or Cubic Zirconia Earrings
Another true classic item you need to add to your jewelry collection is an elegant pair of diamond or CZ earrings. Sure, not everyone can afford diamonds, but cubic zirconias are a very near match — aesthetically, that is. 
Just like the cocktail ring, these earrings are sometimes the only accessory you need to tie your entire outfit together or elevate your look. A simple pair of diamond earrings are great for just about any occasion. You can wear them on your next date night, out to brunch, to an important business meeting, or just running errands. 
They are your go-to versatile accessory. 
3. Hoop Earrings 
Another incredibly dynamic jewelry staple is a solid pair of hoop earrings, in whichever metal you prefer — whether that's silver, gold, or rose gold. But as a general rule-of-thumb, you want to opt for a gold pair of hoop earrings to match nearly any outfit in your wardrobe. 
They are your basic style perennial. They'll never go out of fashion and come in a range of different sizes. Whether you're going for an oversized hoop for summer or smaller Huggies for stacking, they're a great way to add a modern edge to any look. 
To build a good hoop collection, start with a pair of mid-sized hoops for everyday wear. Then add a pair of hoops one size up and one size down in your preferred metal of choice. 
PSA: there's also nothing wrong with mixing up metals for an edgy, tonal look too!
4. A Chain-Link Necklace 
No longer are chunky, gold chain necklaces reserved for Mafia, smooth-talking types. Today, you want to add one of these classic, vintage-inspired pieces to your collection as a modern woman. 
The gold chain necklace has been around for quite some time, but in recent years it's made a comeback, and it's here to stay it seems. While exaggerated, chunky styles are all the rage, you don't have to opt for anything too "out there" if you prefer something a little more minimal. 
Start with a thin chain link and work your way up from there. This jewelry staple is yet another item that ties together even the most casual outfit — heck you can ever wear it with athletic wear!
From a simple outfit of jeans and a tee to a strappy summer dress, or business attire, the chain-link gold necklace adds a touch of retro flair.   
5. A Classic Watch
You might notice a trend going on here. All of these jewelry pieces are items that you can wear alone, as standout pieces to elevate almost any outfit. However, you can also mix and match them up to suit your occasion. 
The same goes for a classic watch. It's one of those pieces that elevate an entire look and is best paired with other classic pieces, such as your gold hoop earrings, for example. 
When choosing your classic watch style, opt for a round dial as this is universally flattering and timeless. But if you prefer something a little more regal, then the rectangular dial is ideal.
The metal you choose is completely a personal choice, but classics such as gold and silver, embellished with subtle diamonds or cubic zirconia never go out of style. 
6. A Simple Diamond Bracelet 
Also known as a tennis bracelet, made famous by U.S. tennis champion, Chris Evert, this is one of those pieces that every woman should invest in. In short, it equates to your hardest-working item of jewelry because it's just so well-rounded. 
It's simple enough that you can wear it day-to-day at the office. Or, you can glam up an outfit for date night or even a black-tie event. It provides the perfect amount of sparkle, without being ostentatious. 
Today, there are so many different variations of the classic tennis bracelet. For example, you could opt for a rose gold setting and baguette-cut diamonds. Or, a yellow gold bracelet with diamonds set in black enamel. The choice really is yours, so pick your diamond bracelet according to your personal style. 
7. A Showstopping, Statement Piece 
Finally, no jewelry collection is complete without an item that's made to turn heads and catch the eye of onlookers. Hence the name, "statement piece". While this item might not be all that versatile or classic, it's one of those pieces you can rely on when the occasion calls for it. 
A statement piece of jewelry could be a large pendant necklace, sparkly, ornamental earrings, or an oversized, sparkling bracelet. The key is to know when to wear this item, and ideally, you want to pair it with a simple dress or tailored suit.
How to Style All Types of Jewelry With Your Outfits 
Not everyone finds jewelry and outfit styling simple. You might not know what type of jewelry suits which occasion and when it's appropriate to wear gemstones, over something a little more refined. As a general rule-of-thumb, here are some of the top things to think about when styling your jewelry and your outfits: 
What's the Occasion? 
This is probably the most important consideration. The day and the event determine the type of jewelry you choose. So before you throw on your glitzy gemstones, make sure they're occasion-appropriate. 
If you're attending a special event, such as a wedding, a cocktail, or a black-tie party, you can whip out the more lavish, glamorous styles. 
When it comes to everyday wear, you want to pair it back. Think about wearing your classic watch, mixed with a pair of diamond earrings. Or your tennis bracelet and a simple pair of hoops. 
Think About the Color Scheme 
When we talk about the color scheme, we're referring to your own outfit! The best way to determine what type of jewelry to wear is to match it to the colors of what you're wearing. 
By doing so, you can create a harmonious, stylish, and timeless look, without your outfit and jewelry clashing. But, you also don't want your jewelry and outfit to match too closely — remember the concept of complementary colors and tones. 
Be mindful of the hue/saturation of your outfit, too. For example, if you're wearing soft, muted tones, you want to go with jewelry of the same saturation. Vivid jewel tones just wouldn't work. 
Think About Your Neckline 
Whether you're wearing a blouse, low-cut top, v-neck t-shirt, a dress, or a jumpsuit, consider the neckline and how your jewelry will compliment that neckline. For example, you wouldn't wear a high-cut t-shirt with a short necklace. Again, the concept of complementary shapes/silhouettes helps with this. 
For example, if you're wearing a low-cut dress, you want to wear either a necklace or earrings, but not both. As this can detract from your outfit altogether. If your neckline is on the higher side, you wouldn't wear a necklace at all, but rather, a lovely pair of earrings. 
The idea is to create harmony and balance between the jewelry you choose and the neckline.  
Let Your Inner Fashionista Shine 
With these classic types of jewelry in your collection, you will always have something to throw on and pull your look together, with minimal effort. Whether you're a lover of jewelry or not, having these pieces in your collection will always stand you in good stead. 
If you're a fashion and jewelry fan, you're in the right place! Be sure to explore the rest of this site for updates on all the latest styles, trends, and must-have items to add to your 2021 wardrobe.